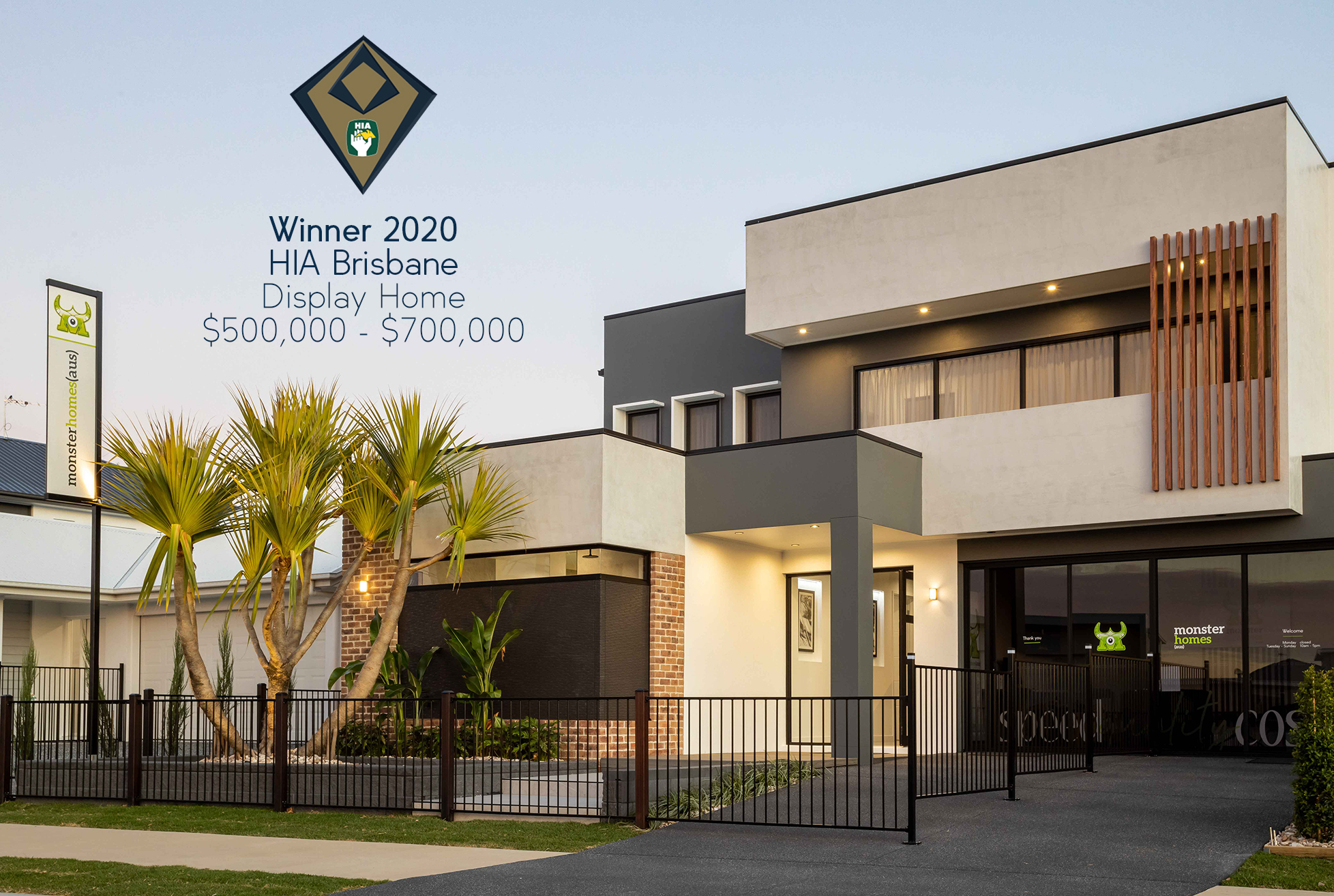 It's been an exciting year at Monster Homes, 2020 has been a great year with the opening of our first-ever display home located in Newport, QLD. Our team spent months planning for the perfect display that will showcase our workmanship and design  — a home that was suited to both a family and the modern-day entertainer. We are thrilled to announce that the Element display home won the 2020 HIA Brisbane award for display home between $500,000 and $700,000 — check out our submission below!
Consistency was essential for this display home. The brief, created by the Monster Homes team was to ensure that our potential clients can see what we can do and emphasise the quality of workmanship consistently shown on all of our builds. The challenge to create the 'perfect' display was on and had the whole office brainstorming the most current trends and what aspects can bring a wow factor. These trends, among others, are the standout features – indoor-outdoor living, natural light, simplicity in design, consistency, and designing a home suited for both a family and the modern-day entertainer. The palette is made up of wood, concrete, black fixtures and white walls.
This luxury display has many impressive features including a 40-year old pandanus tree creating a contrasting feature to the façade, the option to decide on an upstairs or downstairs master suite, Cementil cladding feature wall to entry, three dry bars, and an impressive day bed situated in the middle of the resort styled pool. The numerous living areas ensure that there are plenty of spaces for the end occupier to enjoy.
A perfect solution to ensure a family and an entertainer satisfied is the side entertainment/yard area. This ensures that parents can see their kids in the side yard at nearly every room of the house, it also ensures that the entertainer can make use of the indoor-outdoor living and be involved with their guests at each stage. To ease the worry of economic and global impact, this luxury display home has a world-class 9.9kw solar power battery unit with a massive 5.8kw battery storage, solar analytics live monitoring, and UPS function.
View our Capability Booklet